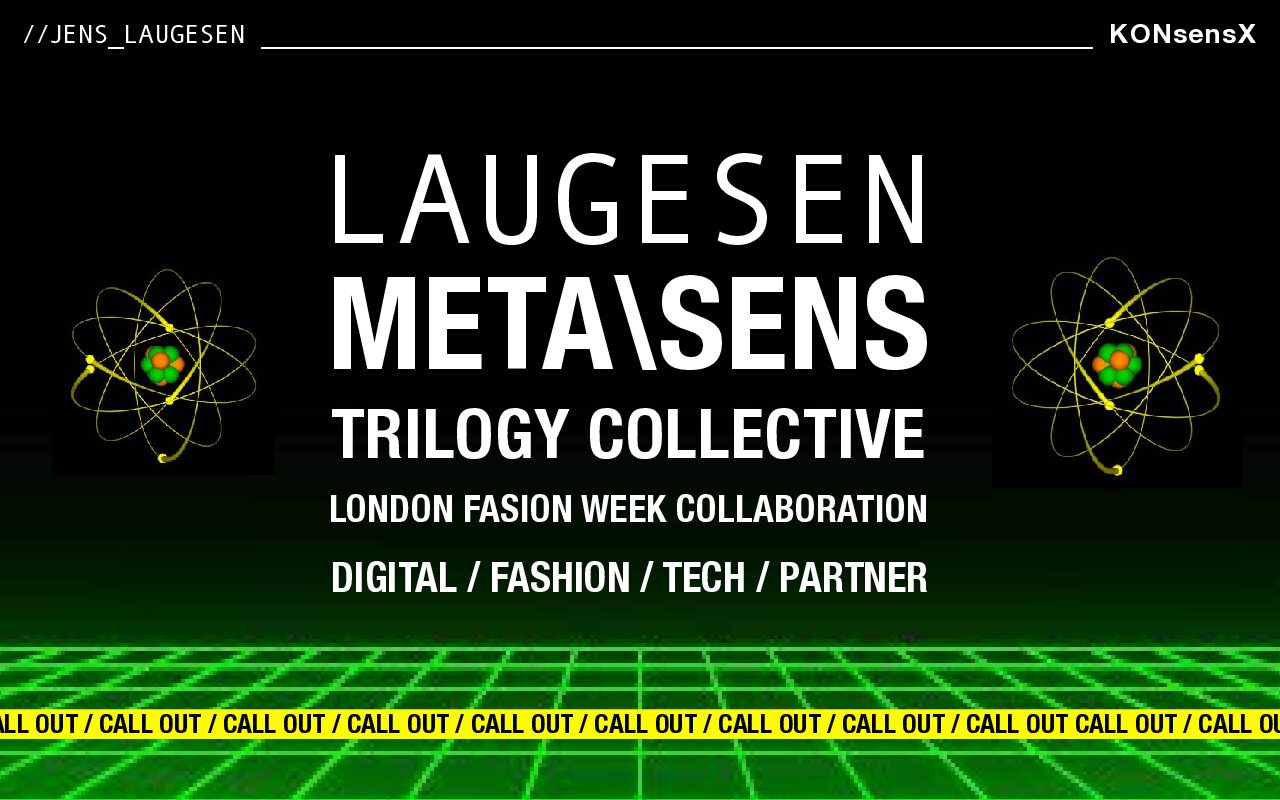 METASENS TRILOGY 02
JENS LAUGESEN PHYGITAL FASHION/ART/METAVERSE
ON-SCHEDULE EVENT IN LONDON FASHION WEEK
Feb 17-21 2023 /
With the support of the METAVERSE, FASHION COUNCIL and MAISON DAO members network, JENS LAUGESEN is launching a call-out for creative collaboration for digital fashion designers, film editors, artists, and fashion tech to apply for design collaboration in LONDON FASHION WEEK that was launched during a recent talk he did during the METAVERSE FASHION COUNCIL SUMMIT.
The project is the first instalment of the META\SENS TRILOGY project launched last London Fashion Week, with an immersive 3D digital space that showcases a bespoke post-pandemic meditative Himalayan landscape space morphed with the utopian aesthetic of Italian avantgarde architect group Superstudio.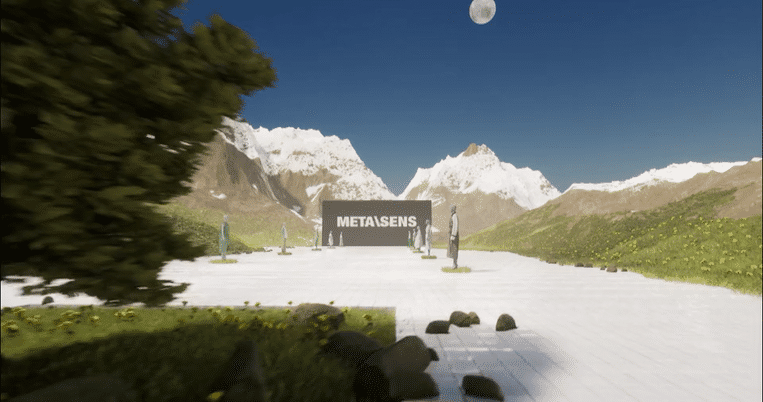 METASENS TRILOGY CALL OUT/
JENS LAUGESEN is looking for highly skilled digital artists with good knowledge and love of garment construction, digital/artisan couture, creative digital pattern-cutting, draping and hybrid luxury/digital craftmanship interested in collaborating creatively for an immersive Digital catwalk to be showcased during LONDON FASHION WEEK in February 2023. The Call-out is open to all interested digital artists applying to the AW23. Selected finalist artists will be invited to collaborate directly with the designer on the LFW PHYGITAL capsule collection.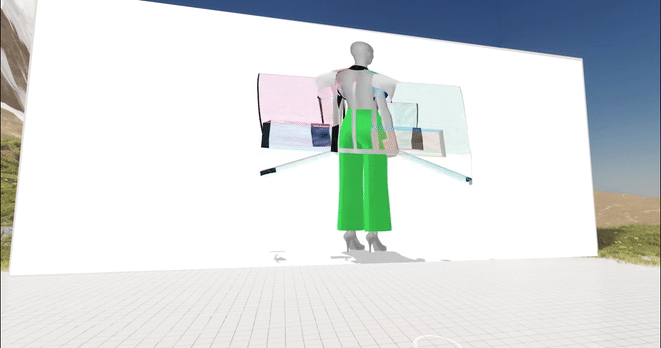 CALL-OUT /
LOOKING FOR CREATIVES WITH A PASSION FOR GARMENT CONSTRUCTION / DIGITAL TWINS / NFT / DIGITAL TWINS / NFT / AR FILTERS / VR / PHYGITAL / METAVERSE COUTURE / TECH DEVELOPMENT /
IMMERSIVE PHYGITAL CATWALK /
The re/constructed brand concept will be revealing a new 50/50 Physical/Digital brand model proposal that invite and allow audiences from around te world to participate in the brand and engage digitally with AR/VR and other mobile connection from around the world.
All shortlisted non-selected artists will be invited to participate in the METASENS TRILOGY 03 collective call-out launching later in 2023.  to collaborate working from the Hybrid design archive and propose their creative design versions rendered of hybrid design thinking inspired by the designer's fascination with meta modernity.
for more info on the MFC FASHION SUMMIT TALK and METASENS TRILOGY COLLECTIVE project please vie here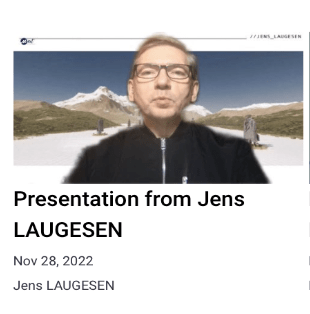 " The architecture of hybridization, the fluent merging of constituent parts into an endlessly variable whole "
UN STUDIO /
/ / Metamodernism displaces the parameters of the present with those of a future presence that is futureless; and it displaces the boundaries of our place with those of a surreal place that is placeless. For indeed, that is the ''destiny'' of the metamodern wo/man: to pursue a horizon that is forever receding. / /
NOTES ON METAMODERNISM
by Timotheus Vermeulen & Robin van der Akker / 
APPLICATION /
 All selected artist names and IG profiles will be part of the LAUGESEN X META/SENS TRILOGY COLLECTIVE list in the press/news release and project credits.
The project is purely self-funded with tech partners who support by developing tech solutions to support the partnership.
To Apply, please send a motivation letter and CV with a 10-15 pg low-resolution portfolio including website and IG handle to receive more detailed info brief of the project.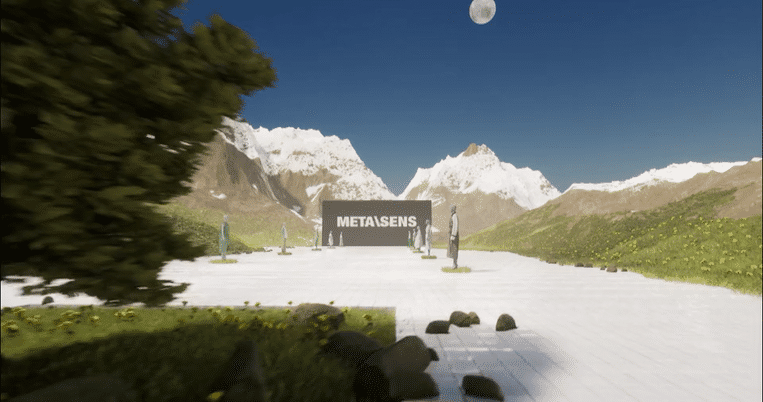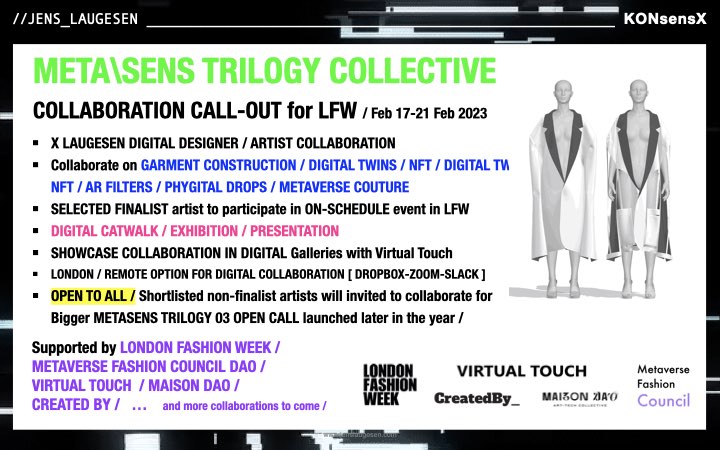 META\SENS TRILOGY
COLLECTIVE CALL OUT
=
LAUGESEN MANIFEST /
We believe in digital fashion and integrating disruptive web 3 technology approaches as  important  communication and creative ideation, just as the product manufacturing process
We implement disruptive design thinking into the LAUGESEN multilevel design, image and community building strategies.
We see Web 3 is the new territory for brands to experiment and re/define who they are in the disrupted post-pandemic landscape. 
We believe it is time to play with new rules to define more holistic integrated positive future.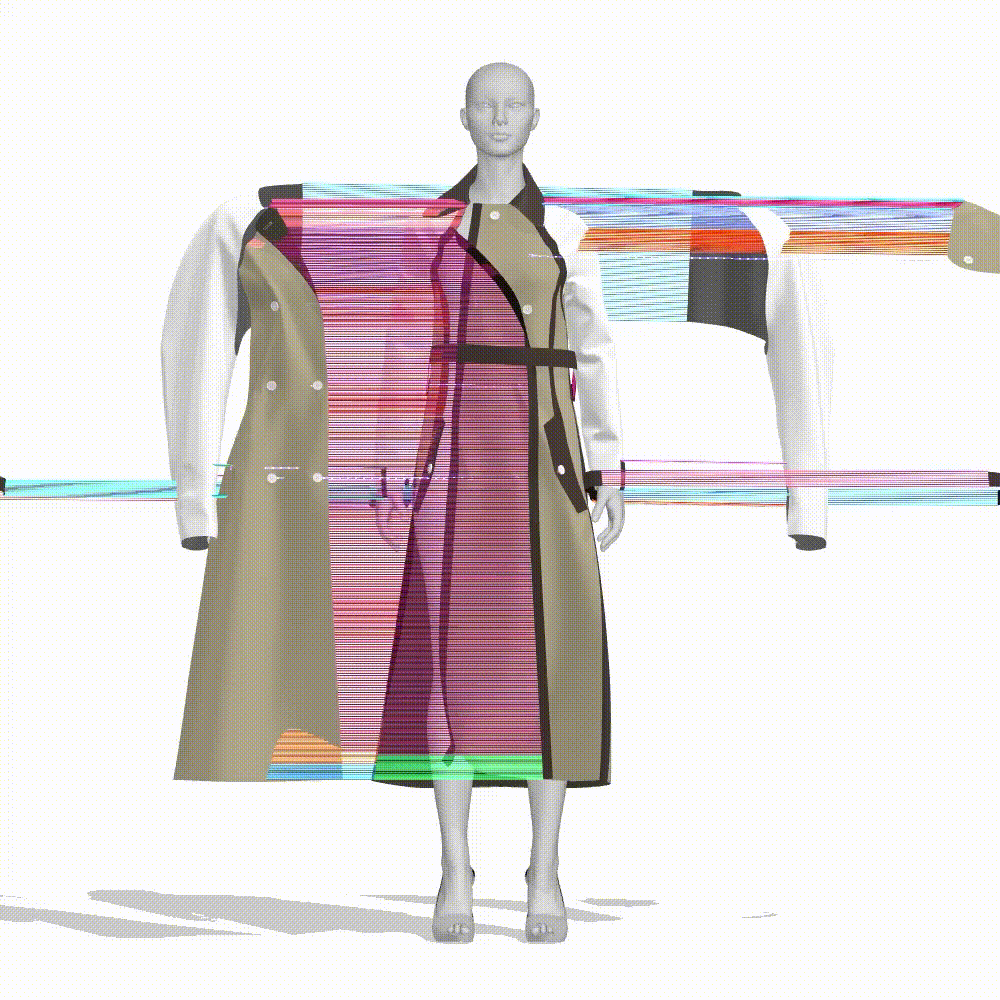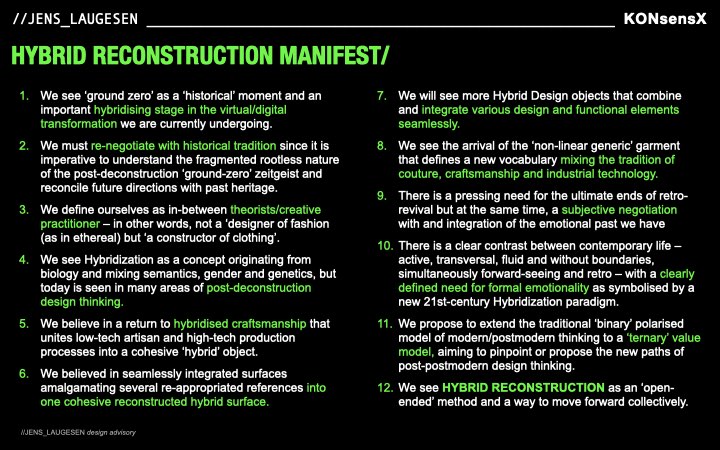 ARE YOU INTRESTED IN DIGITAL ?
1 / INTRODUCTION /
If interested in learning more of our methods please leave an INTRO MESSAGE below  so we may send your more info about KONSENSx and the CREATIVE SERVICES we offer.
2 / BRAND Q&A /
Following this initial contact, we will forward further agency info and a BRAND INTRO Q&A that will help us understand your brand better and outline the areas you would like to discuss.
3 / DIAGNOSTIC CALL /
Once we have reviewed your Q&A, we will schedule a complimentary DIAGNOSTIC CALL to discuss your case further, allowing us to send you a TAILORED PROPOSAL.
4 / PROPOSAL /
Following the diagnostic call, we will create a BESPOKE PROPOSAL tailored to the budgets, specific challenges and STRATEGIC PROJECT you are looking to develop.